Morel Family Foundation Sponsors Promising Athletes Amid COVID-19 Pandemic
When the COVID-19 pandemic hit in March 2020, the world came together to do our part and stay home.

A year later, this has proven to be difficult in many ways, for many people. No less for those in the sports industry. Athletes around the world were asked to take a pause, many in disciplines where days off can throw off years of dedication and discipline. Not to mention the stress of pulled sponsorships or supports for the industry as a whole.

Being an athlete takes twenty-four seven dedication and resilience and many athletes across the country found themselves at a loss, unsure where to go next.

The Morel Family Foundation is a big believer in the incredibly positive impact sports can have on individuals and communities. When we were approached to provide sponsorships to two athletes; we did all we could to be able to assist providing continued support to these athletes so they could continue to pursue what they have been training their whole lives for.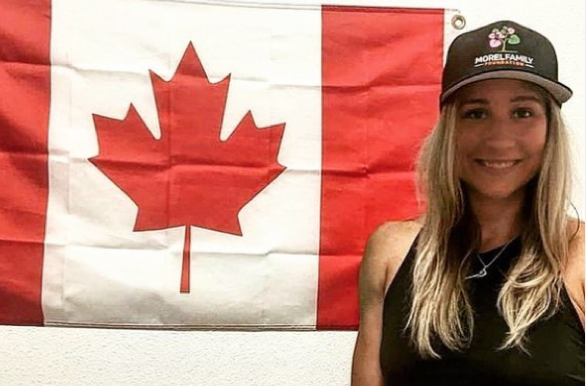 The Morel Family Foundation is a proud sponsor of Team Canada Bobsleigh Brakeman Kristen Bujnowski. Providing financial support as she trains for her pursuit of bringing home the gold at the Beijing 2022 Winter Olympics.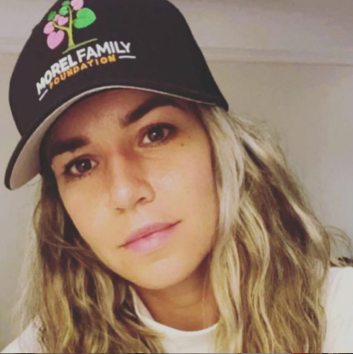 Morel Family Foundation Gives Back in Times of Uncertainty
It has been a little over two months since Canada went into lockdown due to the COVID-19 virus.

During this time, we have seen a lot of anxiety and stress. We have also seen the coming together of communities and citizen groups to care for one another like we have never seen before. These groups have volunteered time, money, and resources to help the elderly, frontline workers and simply every family that they can who needs it, across our Country at this distressing time.

The Morel Family Foundation has prided itself on giving back and during this time, it has been no different. We were thrilled to be able to donate 145 hot meals to the staff of North York General Hospital's maternity unit. A meal for every new mother and staff member, plus leftovers just in case anyone felt a little extra hungry!

During this pandemic families are not able to gather to celebrate the momentous moments with each other, be it funerals or the birth of a new baby. We wanted to do something that would let the mothers of NYGH know that they are not alone. Their community is with them.

We also donated to the wonderful 'We the Bury' campaign in Sudbury. The Campaign saw volunteers from across Sudbury come together to collect bottles and cans and was launched by locals Curtis Loiselle and Ashlie Wainman whose goal was to raise $500 in support of the Sudbury Food Bank.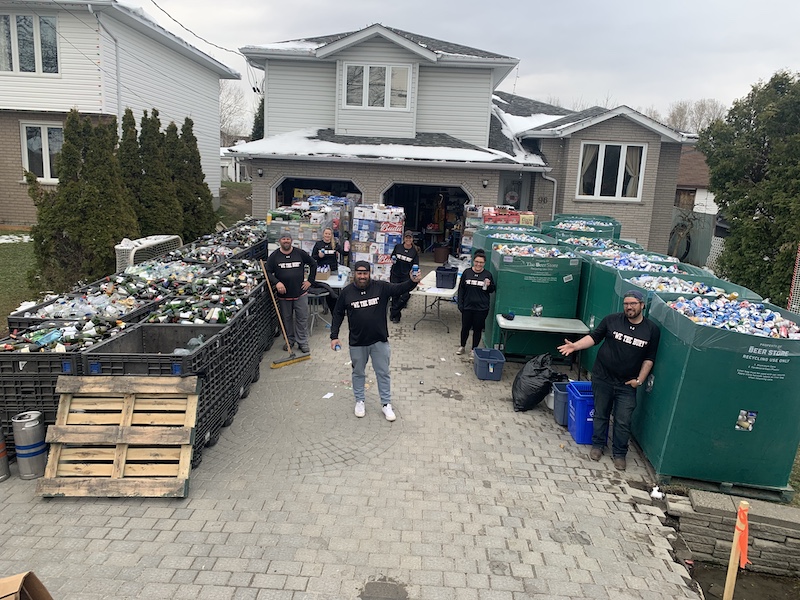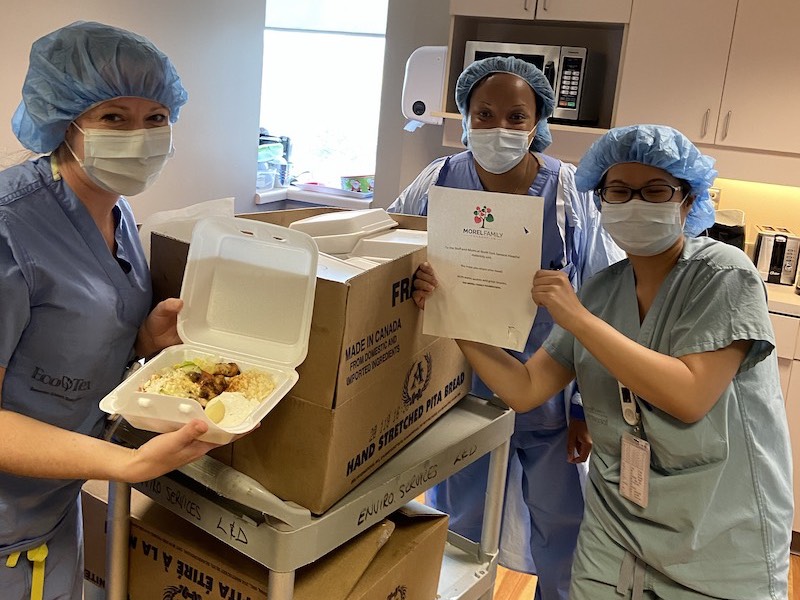 "We know a lot of people are struggling right now - it's something that we're not used to. We had a little bit of time to give back and we thought why not (help) those that are less fortunate than we are. It feels good to give back and help some families who maybe need some support and obviously the food bank needs that support, as well." – Curtis Loiselle
The Morel Family Foundation covered all the We The Bury campaign's expenses, ensuring that 100% of all the funds go directly to the Food Bank. Eventually raising over $18,531 dollars which will enable the Food Bank to purchase over $111,000 worth of food! Although our role was very small, we are thankful that we had a chance to be involved.

We would like to extend a big thank you to all our medical workers, grocery workers and each person doing an essential job that helps keep all of us safe and with what we need. Also, thank you to those people like Curtis who are helping their communities to come together all over our wonderful country.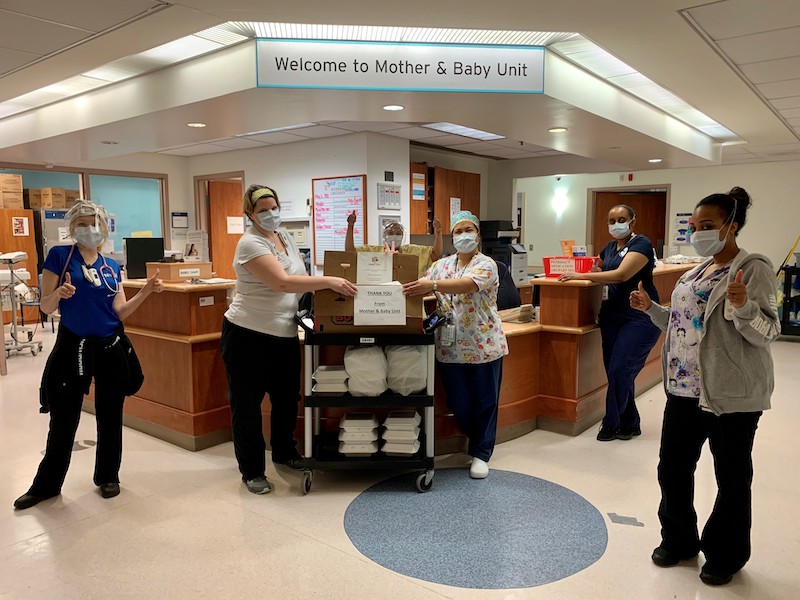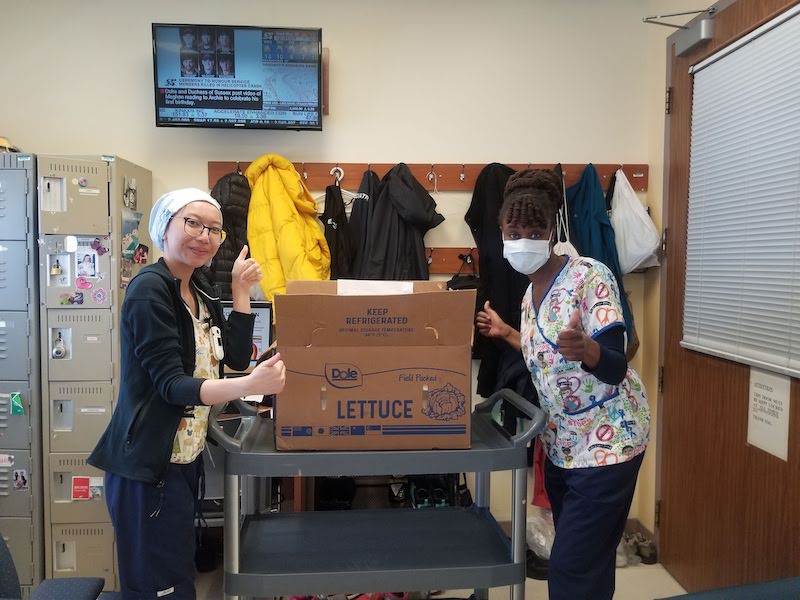 Morel Family Foundation Presents A Night with the Raptors
On February 23rd, 2020, The Morel Family Foundation was proud to host its second annual sports-themed night.

We were lucky enough to be accompanied to watch our beloved Toronto Raptors take the game, by nine incredible young people all of whom are battling various severe health issues.

Every time the Foundation hosts an event like this, we are always left in such awe at the incredible tenacity, resilience, incredible senses of humour and openness of the children we host. It's an honour for us to be able to share a moment with each of them and their families. Hopefully we leave them with a memory to last a lifetime, as they often do with us.

These events take a lot of people to pull them off and a huge thank you goes to the entire MLSE team for helping us arrange a seamless event. Including pre-game floor seat access where we got to watch the players practice.

Raptor, who took time out of his busy game day schedule of entertaining thousands of fans to come and visit with us; and of course to the Morel Family Foundation team who are just as passionate about giving back and doing good as the Morel family are.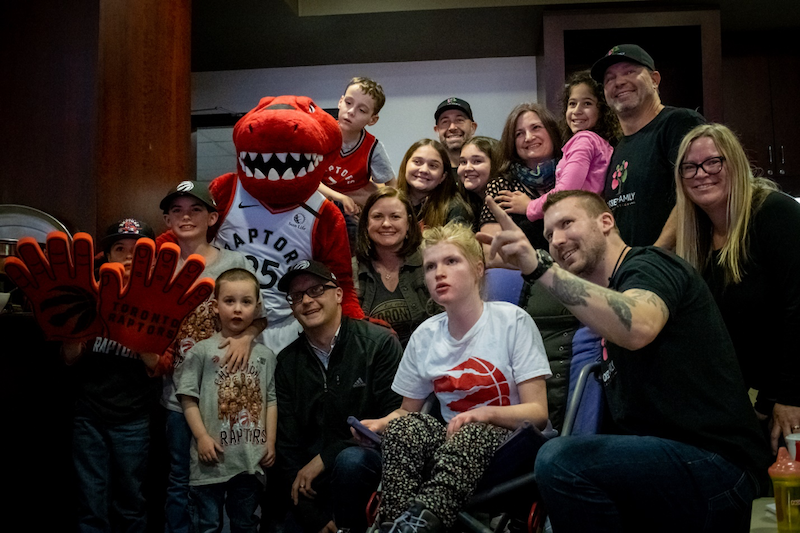 Morel Family Foundation Testimonials
"We are grateful to the Morel Family Foundation for their support in providing experiences such as field trips and monthly pizza days to our students at RMHC Toronto School. Field trips help to extend the walls of our classroom, allowing us to cover curriculum expectations in unique places such as museums, theatres and galleries. They provide opportunities for our students, who are all from out-of-town, to experience places they have never seen before, and their amazement is heart-warming. These special visits also allow them to focus on new and positive experiences and forget about their difficulties for a while. Pizza days allow children to eat their favourite food together with their classmates in a fun, relaxed environment that fosters meaningful conversations. Overall, field trips and pizza days help to increase the sense of normalcy for our students as these special events tend to be the highlights of all children's schooling experiences."

- Katie Doering, RHMC Toronto School Principal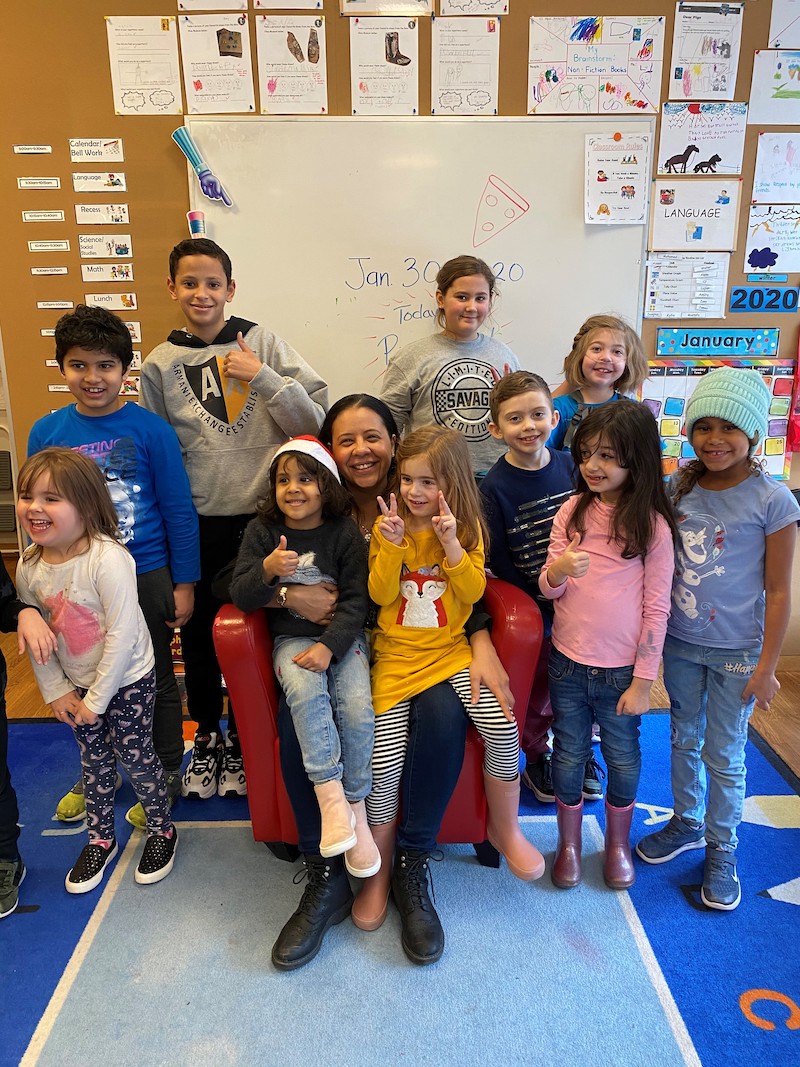 "This is the best school ever because we get to go on field trips every month!"

"Best Day Ever!" (after watching the musical CATS)

"I have a countdown calendar in my room until our next trip. I cannot wait. It is going to be awesome!"

"I never thought this school would have pizza days. Very cool!"

- RMHC Toronto School Students
Morel Family Foundation Assists in Bahamas Relief Efforts
Two weeks after the devastating Hurricane Dorian hit the Bahamas, all the well-known relief organizations, such as the Red Cross began leaving the island. With a long way to go for many communities affected to be back on their feet, the Morel Family Foundation decided to step up and aid in relief efforts.

On September 20th, 2019 Melanie Morel along with a close friend, went down to assist directly in in the humanitarian efforts and pick up where the larger organizations have left off.

The Morel Family Foundation took a shipment of supplies for the family shelters. Melanie visited shelters housing approximately two thousand people, providing much needed supplies, such as hygiene supplies, such a feminine products, toothpaste, toothbrushes and deodorant. Melanie also taken with her clothing, shoes and many other supplies.

The Foundation sponsored several days of hot meals. The entire Morel family went down on Thanksgiving weekend and provided a huge Thanksgiving feast to the shelters. The work relief work continues, and the Morel Family Foundation intend to be involved as much as we can for as long as we can.

If you would like to help in anyway, please email info@morelfamilyfoundation.com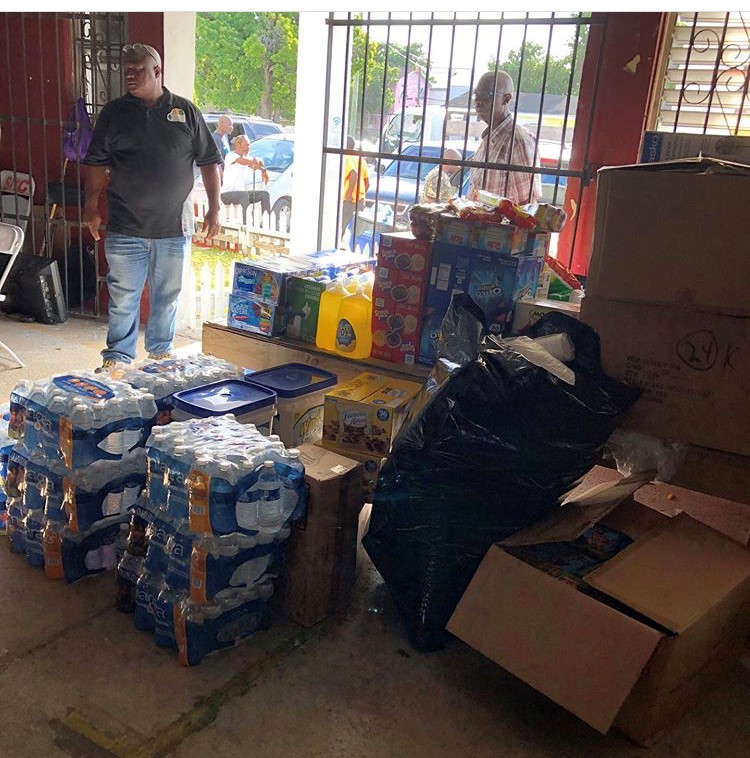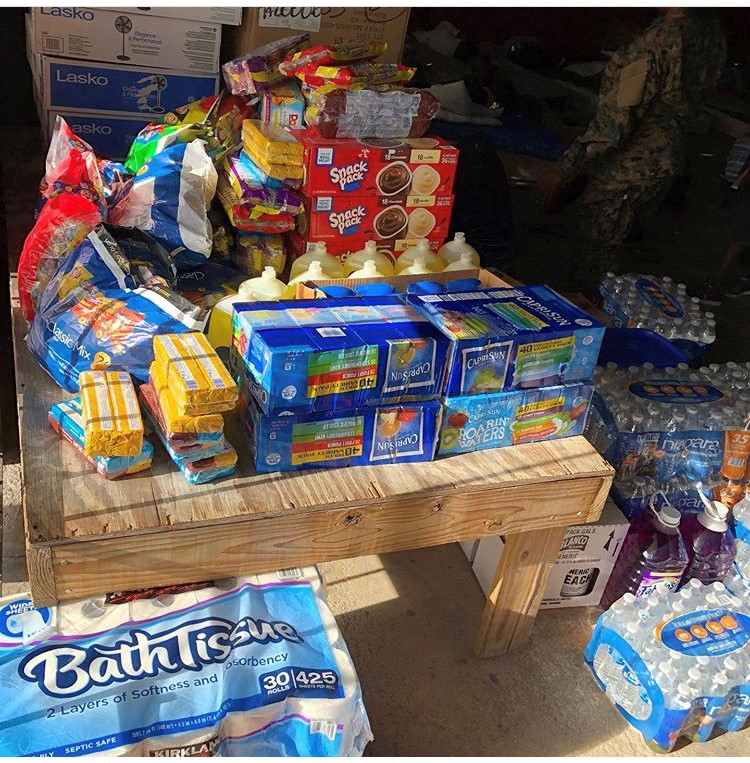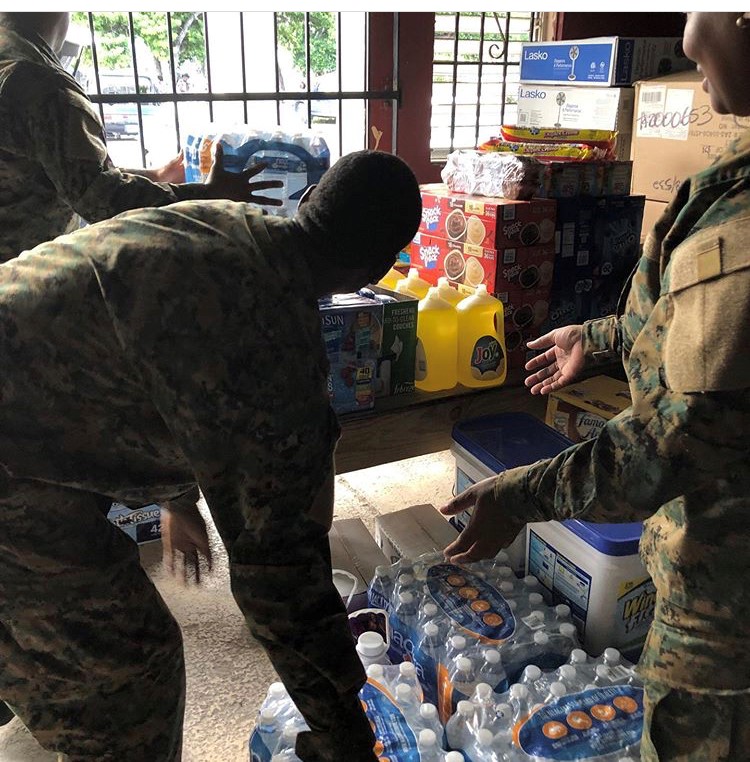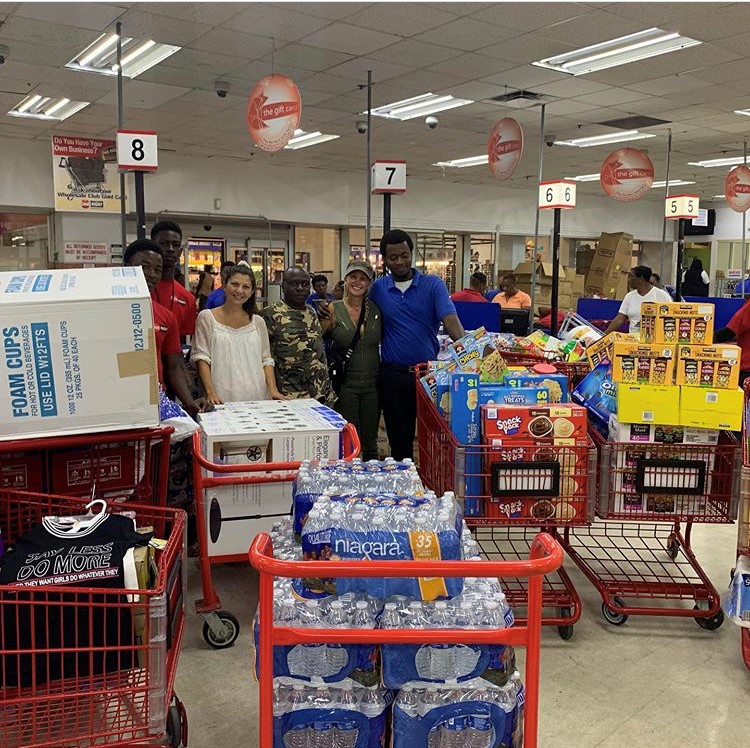 Morel Family Foundation Wins 2019 Award of Distinction
A few weeks ago, the Morel Family Foundation found out that they had been nominated for the North Eastern Ontario Recreation Association (NeORA) Awards.  The awards ceremony was held last month in Sudbury, Ontario.

We are proud to announce that the Morel Family Foundation was a recipient of the NeORA 2019 Award of Distinction. This award recognized the work of the foundation's flagship project the Morel Family Foundation Park, located in the Minnowlake area of Sudbury.
This award is presented for the successful advancement of Recreation and Healthy Active Living opportunities in Northeastern Ontario. With the recipient having made significant and distinct contributions to the field of recreation through such areas as growth, development and/or enhancement.

Thank you NeORA for the recognition, we are humbled and proud to have received this award!
Morel Family Foundation Sponsors Ambitious Young Tennis Player
The Morel brothers have always understood the impact that playing sport can have, in life. Both Kelly and Cory have been involved in sports since they were children and continue to play today. Sports can provide valuable lessons such as discipline, goal setting, perseverance, as well as a sense of community, inclusion and fun!

Kelly Morel recently met a wonderful young girl named Samaya. 11-year-old Samaya plays tennis at a community tennis club in Toronto, which she lives within walking distance from. The club has become a valuable place not only for her but for many other neighbourhood children, providing a great sense of community.

Samaya first became acquainted with the club when she was 4- years old. She started playing tennis, really enjoyed it and hasn't left the club since.  Her goal is to be able to compete at city tournaments and win the club junior championships at the end of August. However, Samaya and her mother don't have the financial means for her to be able to realize this goal fully.

The Morel Family Foundation is thrilled to be able to help this little girl achieve her goal by sponsoring her tennis camp fees this summer! We wish Samaya good luck and hope she achieves this goal and whatever goal she sets next.

You can read a little about Samaya in her own words below: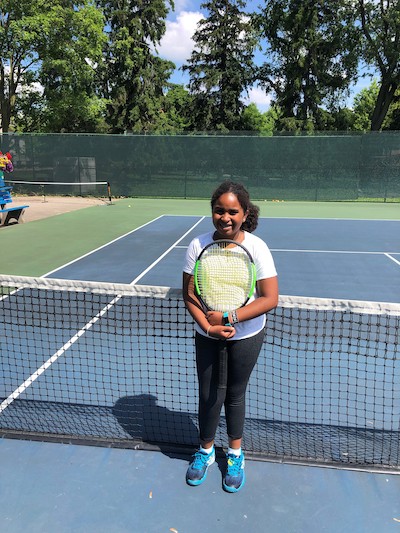 "I am 11 years old and I play tennis at Tournament Park Tennis Club. I have been playing tennis since I was 4 years old. I have been coming to the summer tennis camp every summer season. I love tennis because I enjoy playing with my friends and having fun with my rallies. My coach Radu gave me a brand-new Wilson racket two years ago, I was really grateful. It's green and I take really good care of it. I really enjoy rallying with my coaches and friends, that is the joy of tennis. I am so happy that I can always play tennis."
Morel Family Foundation Volunteers with RMHC For Third Year Running
It's been a busy summer for the Morel Family Foundation. In June the team had the privilege of volunteering for the third year in row with the Ronald McDonald House Charities Toronto, for their Meals on the Go program.

This program is a lunch-based meal preparation program and different from the previous years' programs we've participated in, where we've prepared hearty, healthy dinners. Nonetheless it was a fantastic day giving back and doing good for a place that is so dear to us.

We prepared healthy bagged lunches for the residents, making more than one hundred sandwiches, healthy veggie bags and cookie packs. These are bagged lunches are divided between the Home residents and the RMHC rooms at Sick Kids Hospital. The half taken over to Sick Kids hospital provide the family members who are there during the day, to be able to have a 'homemade' healthy free lunch. Being in such a situation as many of these families are in can be both emotionally and financially straining, so any little bit we can do to provide a moment of care, we do it.

Thank you for the opportunity to spend time at the house Ronald McDonald House Charities Toronto. It's always our pleasure.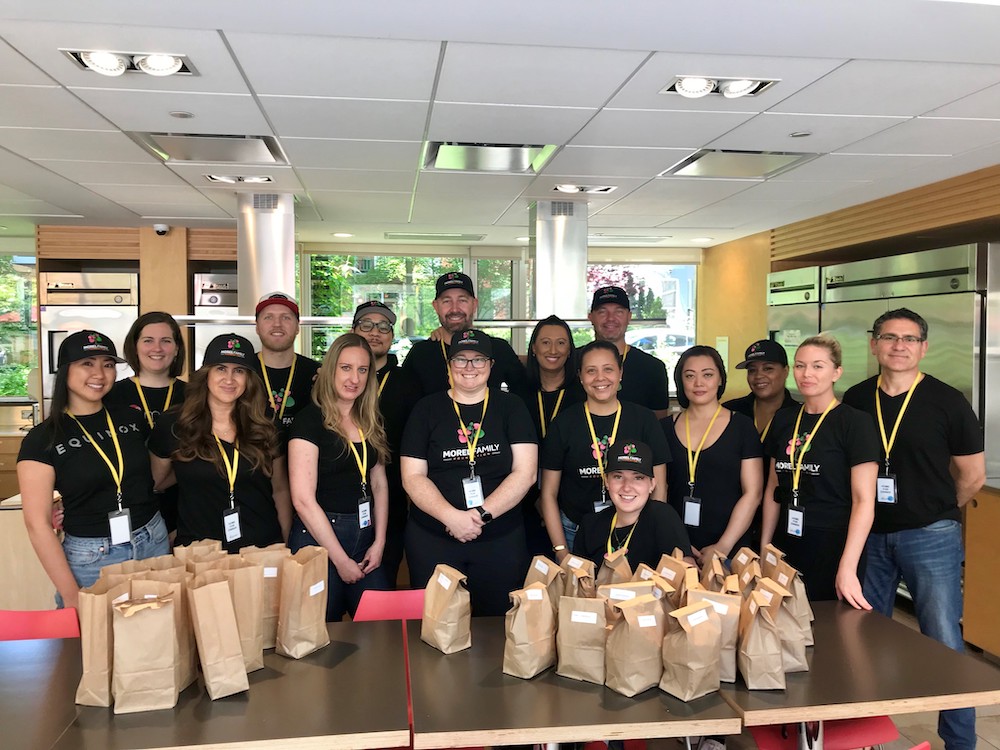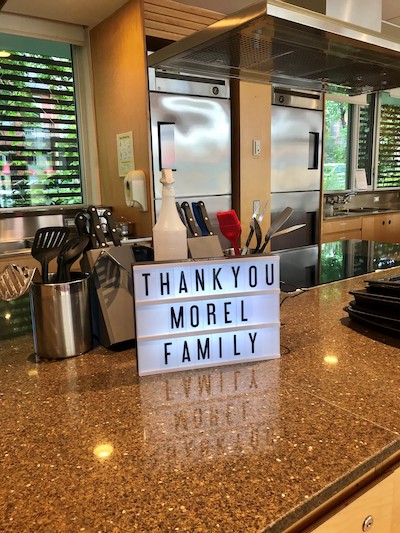 Morel Family Foundation brings joy to families at RMHC Toronto.
There's something about the sight and smell of a big bowl of fresh fruit that can really lift the spirits.

Thanks to the Morel Family Foundation, families at RMHC Toronto have been enjoying this wonderful treat – delivered to our House and Family Room at SickKids – every week for a year.

"Fresh fruit makes families feel like they are home and helps ensure they maintain a healthy diet while spending long days at the hospital," says Candice Gurwitz, Director, Family Services and Programs.

When asked about the donation, one grateful dad recently said, "To many this may just be an apple, but to me, it is a symbol of the kindness, compassion and warmth".

Bringing joy to children and families is the mandate of the Morel Family Foundation. The Foundation was formed in 2015 by brothers Kelly and Cory Morel in memory of their parents, who instilled the values of giving back and helping others.

The brothers first got involved with RMHC Toronto in 2016 by serving Home for Dinners and expanded their support to the weekly delivery of fresh fruit last year. Recently, they also committed to funding student field trips for the upcoming school year at the RMHC Toronto School.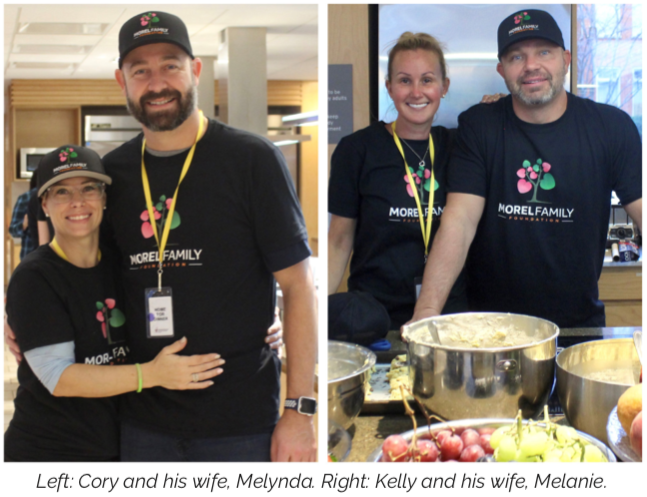 "Our Foundation aim to makes a direct impact on children experiencing challenges in any sense," says Kelly. "Our goal is to give them meaningful experiences, big or small, that will enhance their lives and brighten their day."

"When my brother and I were talking about the field trips, we had big smiles on our faces. It's tough for kids to leave their hometown schools, so helping them experience fun trips like they would at home is important to us," adds Cory.

Thanks to funding from the Foundation, beginning this fall, students will attend a concert at the Toronto Symphony Orchestra, have an immersive learning experience at Medieval Times and see a musical at the Princess of Wales Theatre. The field trips are tied to arts and social sciences curriculum and will reinforce the lessons learned in the classroom.

"An investment in knowledge pays the best dividends." ~ Benjamin Franklin
A Little Help for Lincoln
The Morel Family Foundation prides itself on being able to give back and do good; as we can, within the means that we have.

Cory Morel was recently made aware of and provided with some information about a young boy from Belleville, ON named Lincoln.

Lincoln is only four years old and was diagnosed at 13 months with a brain tumour. He underwent a 9-hour surgery to remove a small piece of the tumour, shortly after which he had two further surgeries for the shunt that was put in to help him with an additional condition he battles.

He spent a month at Sick Kids and was then transferred to Holland Bloorview hospital for another two months of rehab therapy. Lincoln then started 70 weeks of chemotherapy, and he is currently at week 59.

Over the past two years since his diagnosis, his family have been struggling to pay bills, travelling between Belleville, Toronto and Kingston hospitals for his many appointments. This, plus various other expenses have put a strain on them as it would any other family, in a similar situation.

Cory and his son Parker decided to drive out to Belleville to meet the family to hear their story in person. They spent some time with them and Lincoln, playing simple games and being in each other's company. Cory and Parker dropped off a battery-powered ride-on-Jeep, for Lincoln who also has mobility issues, to have a little fun and just be a kid with. A horse trailer toy that was on Lincoln's wish list; horses are his favourite; as well as a cheque for $1,500 to help with the family's travel expenses.

Cory was so moved by Lincoln and the Sedore Family that he made another donation on behalf of the foundation to help them reach their target goal of $10,000.

We will continue to follow Lincoln's fight and encourage you to get involved too.

You can make a donation here: https://www.gofundme.com/lincolns-fight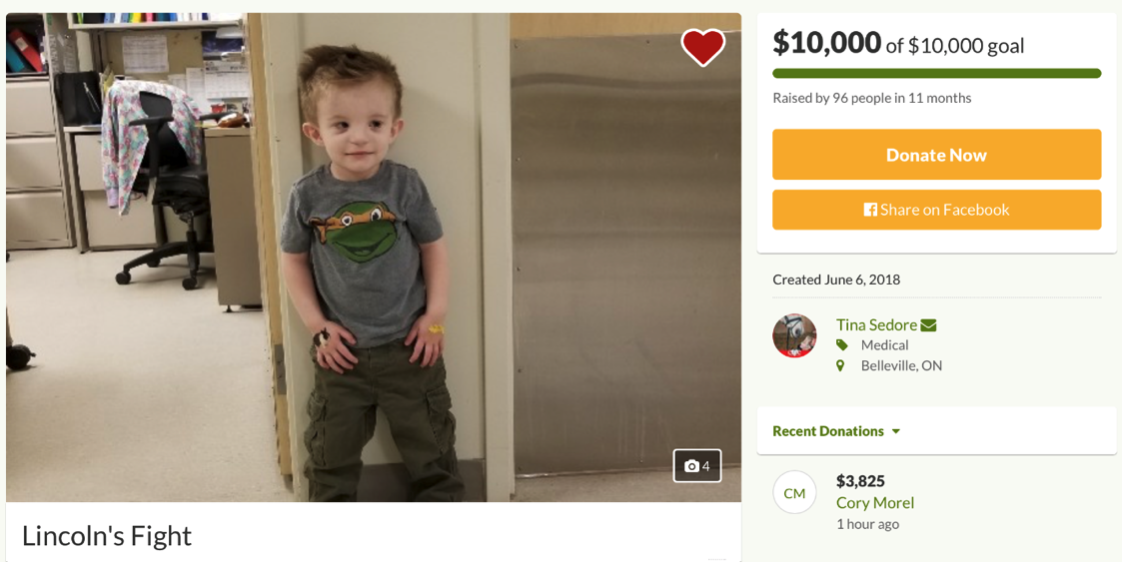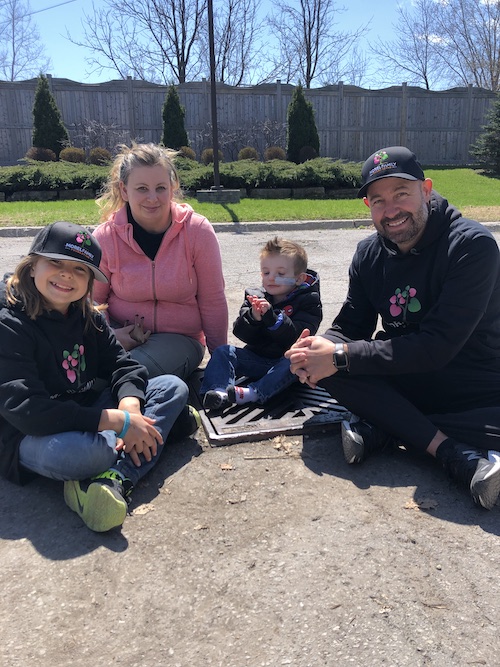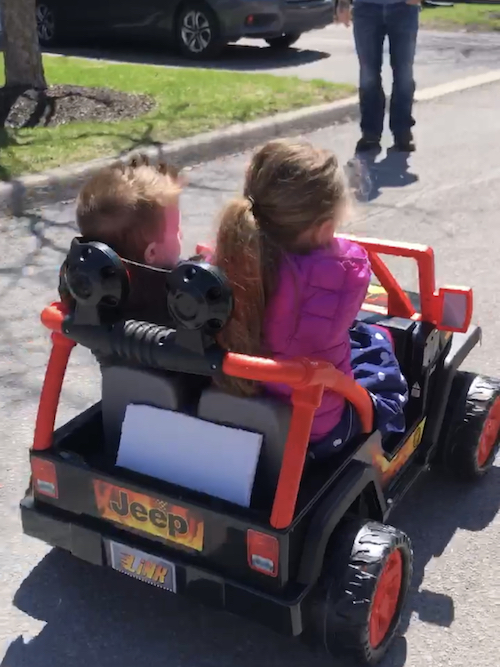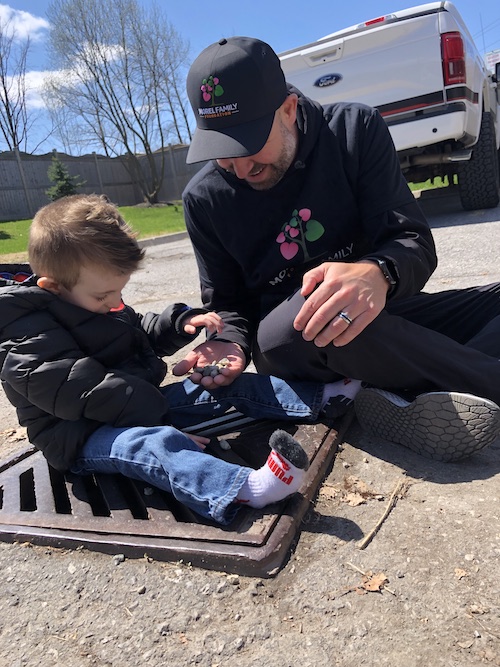 Paying it Forward with Project Give Back
The Morel Family Foundation was established based on the values that we, Kelly and Cory, were raised with. The values that we learned from our parents. Wanting to give back and do good, isn't just something we try to do it's who we are. So, when we became parents ourselves, it wasn't with a second thought that we would raise our own families with these values.

That's why it makes us so proud to see the legacy started by our parents, continued by our children. One of our sons Grayson recently chose to give a presentation to Project Give Back about the Foundation. Project Give Back is an organization that provides students with a platform to teach fellow students about a charitable cause that influences their lives. This helps to establish strong connections with the students who become motivated, challenged and inspired through their own personal journey.

Grayson chose the Foundation of his own volition and it makes us proud every day to see that our children are learning from us, not just with what we say, but from what we do too.
Morel Family Foundation presents A Hockey Night in Ottawa
The holiday season came and went in the blink of an eye but for us this year it was a little extra special. December is a wonderful time for friends and family to give and receive gifts and at the Morel Family Foundation, we are no different. We were so fortunate to not only have been able to give back but also to receive the wonderful gift of meeting some incredible young people.

On December 17th, 2018 the Foundation hosted an event for some young hockey fans in the Ottawa area, all of whom have been or are currently battling life-changing medical conditions.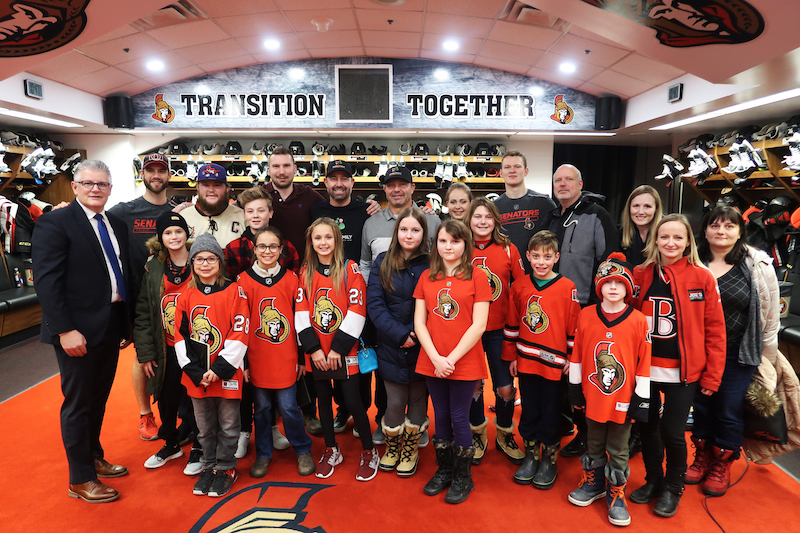 These nine boys and girls have all been through trials that would test the resolve of any adult let alone children aged between 10 and 15 years old. We were awed by their strength, determination, and the positive attitude that radiated from each one of these incredible young people. We were lucky to have had the opportunity to see in the flesh what the expression 'strength through adversity' really means.

Of course, pulling these kinds of events off successfully is no small feat and we would like to thank our many partners who came together to help us. A huge thank you to the Ottawa Senators GM Pierre Dorion, associate coach Marc Crawford, players Brady Tkachuk, Mike McKenna as well as former Senator Kyle Turris along with the entire Ottawa Senators family who helped give these kids a great experience. A special thank you to Brent Wallace and Mike Johnson from TSN who visited our suite and had nothing but time for our kids.

All in all, it took 17 people to pull this event together and we are so grateful for their help and collaboration. Here's to a happy, healthy 2019 to you all and we hope to be able to do more good this coming year and beyond.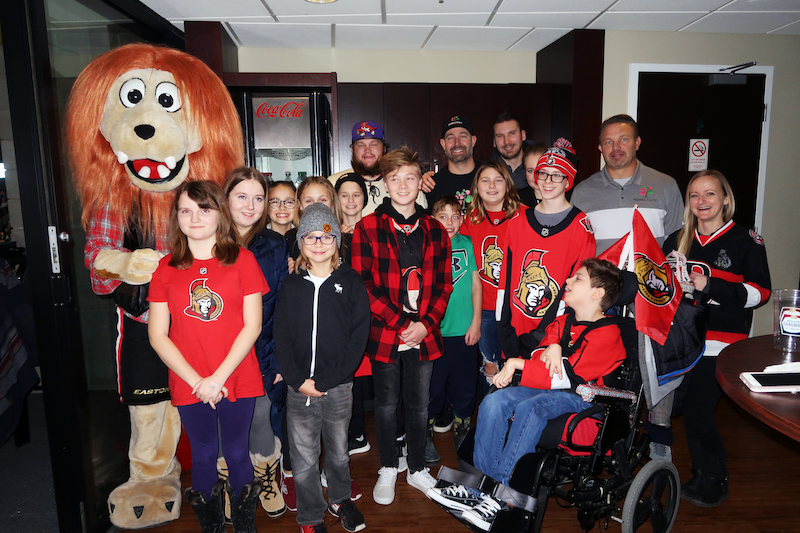 Morel Family Foundation and the Ronald McDonald House Charities Toronto Home For Dinner program
On the evening of March 6th 2018, the Morel Family Foundation had the honour of participating in our second Ronald McDonald House Charities Toronto Home For Dinner program. We brought our A-game and had to use all of our team's best kitchen skills to cook a successful Greek meal for the 81 families that call the Ronald McDonald House Toronto home. Each stay can only be described as some of the toughest times anyone could imagine, for any family.

At the Morel Family Foundation – family means everything and kids are at the core of that so to be able to give back in a small but meaningful way and to be able to share a meal with true heroes – these incredible families - was an experience we'll cherish for a long time.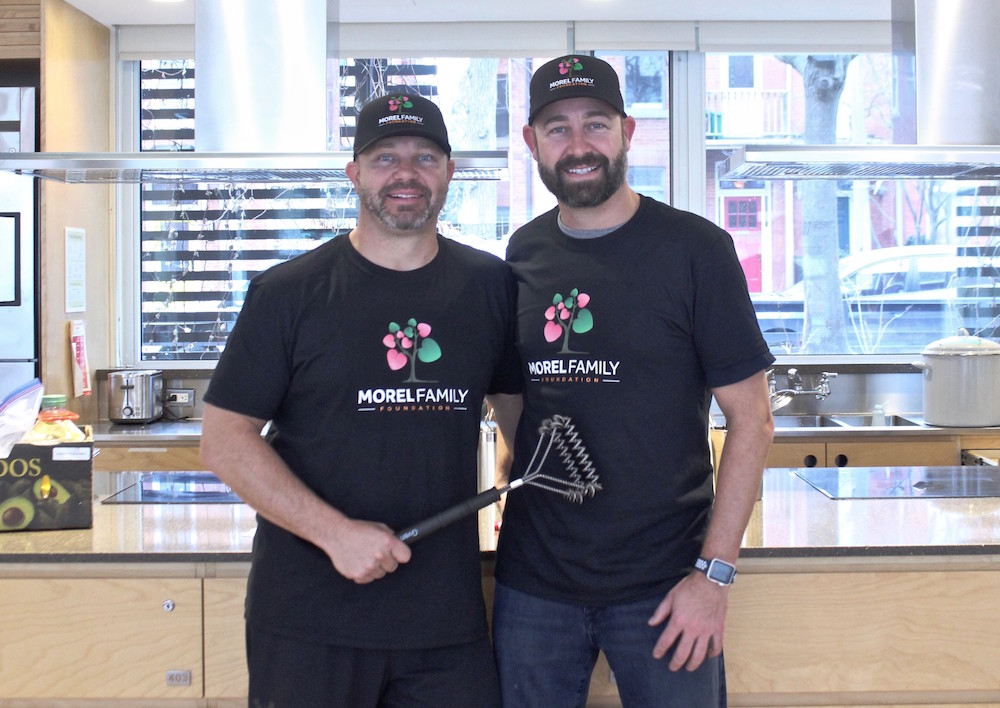 Morel Family Foundation marks anniversary of Minnow Lake park
The Morel Family Foundation is set to host a one-year birthday bash for the park it opened in Minnow Lake.

June 2 will be a day of fun and entertainment for everyone who helps the foundation celebrate.

Starting at noon, there will be a free barbecue, ice cream and bouncy castles and lots of games. That will run until 3 p.m.

At 8 p.m. the foundation will host a family movie under the stars – a picnic-style movie screening with lots of popcorn followed by a fantastic fireworks show.

"All in all, it's just a great day of family fun," the foundation said in a news release.
View Full Article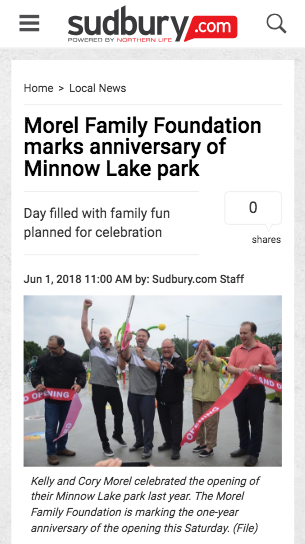 The Morel Family Foundation Supports Cystic Fibrosis Canada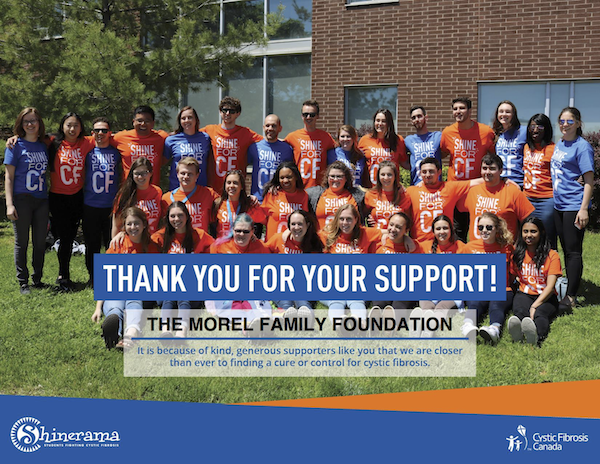 CTV News - Opening of Morel Family
Foundation Park
View Full Article
OP-ED: Enough mincing, let's stride boldly into the future
And then there are the selfless givers and true visionaries, those who show faith in the future of their hometown — most recently, Mrs. Lilly Fielding and the Morel Family Foundation.

What did we see before the spectacular ventures of these past leaders? We saw rocks and green fields. Our whole city's built form has been on rocks and green fields. We built through it, on top of it, under it and around it. It's what we do best.
View Full Article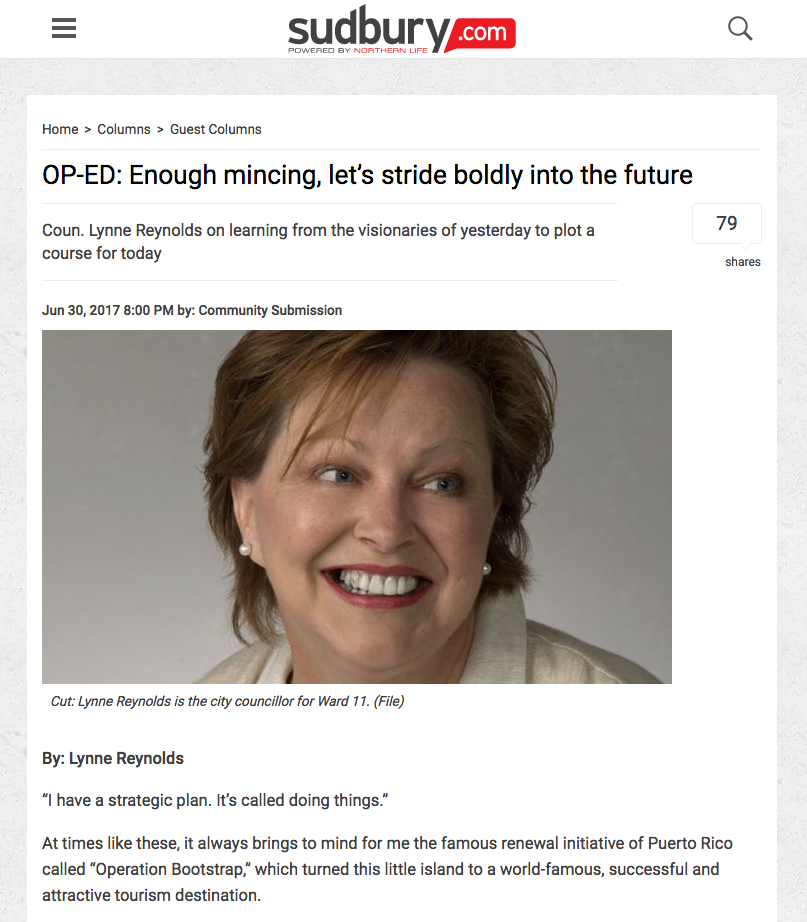 Morel Brothers Open City's
Newest Park
Greater Sudbury's newest park is open for fun.

The Morel Family Foundation Park, located at 270 Second Ave., was officially opened on June 17 with a ribbon-cutting ceremony and party. It's the result of $400,000 in donations from the Morel Family Foundation to the City of Greater Sudbury.
View Full Article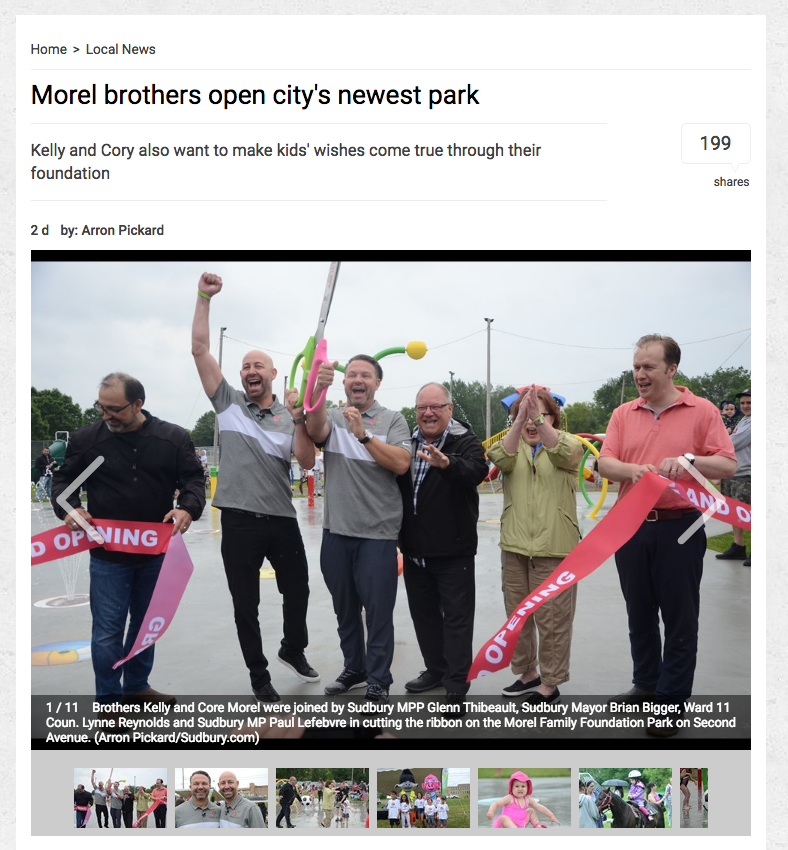 Opening of Morel Family Foundation Park
The grand opening of the Morel Family Foundation Park on Second Avenue in Sudbury, Ont. was held on Saturday June 17, 2017.

The event included live entertainment, free barbecue and goodies, horse and pony rides, bouncy castles and a number of other activities.
View Full Article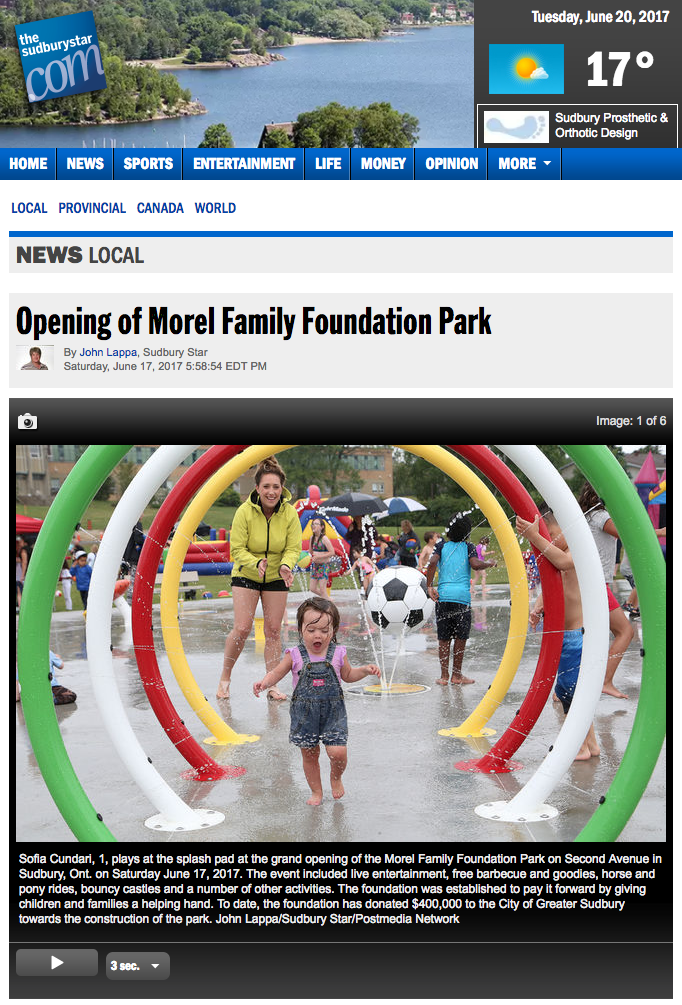 Morel Foundation Family Park opens today in Sudbury
The Morel Family Foundation Park will officially open Saturday.

The grand opening takes place at 11 a.m. at the park's location, 270 Second Ave. There will be a barbecue, cotton candy and ice cream.

"My dad was a celebratory individual and we want this to be a huge celebration," Kelly Morel said.
View Full Article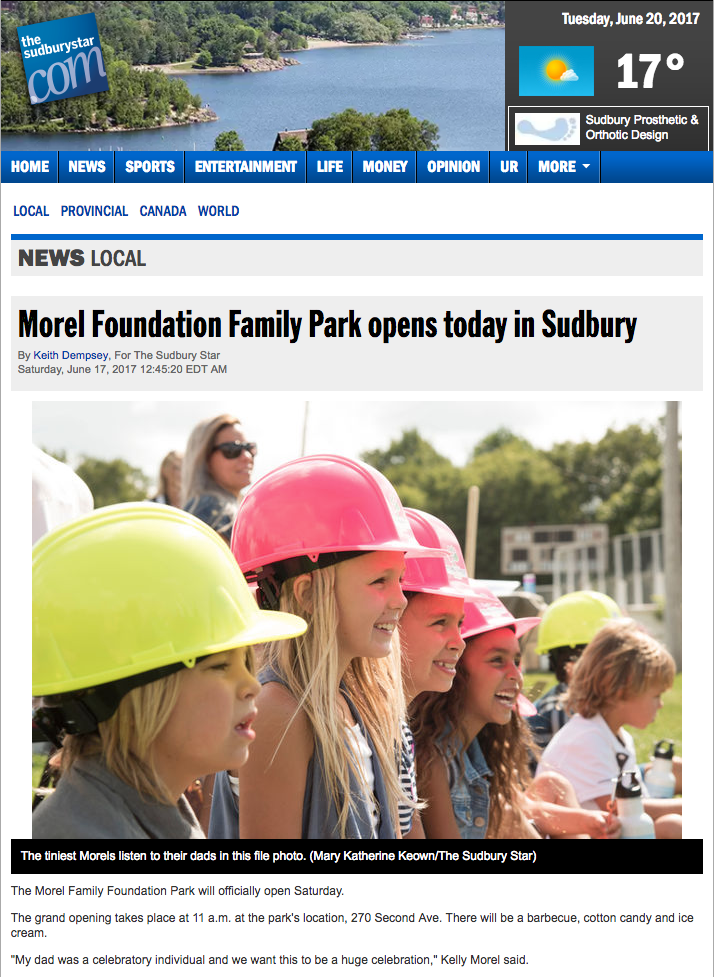 The Grand Opening of the Morel Family Foundation Park
The Morel Family Foundation has been working tirelessly on a flagship project aimed at improving the lives of a community in need. Kelly and Cory began the foundation to honor their late parents, Ray and Barbara Morel, by carrying forward their kindness and dedication to philanthropy.

Over the past 25 years, the family has been involved in numerous charitable projects both personally and through the corporate structure of the Morel Group of Companies. To continue to provide much-needed support to children and families in need, the foundation has been established as the official outlet for charitable efforts on behalf of the company.    

As proud fathers themselves, Kelly and Cory value the importance of staying close to family roots. Hence, their hometown in Sudbury, Ontario naturally stood out as the perfect location for the first official Morel Family Foundation project.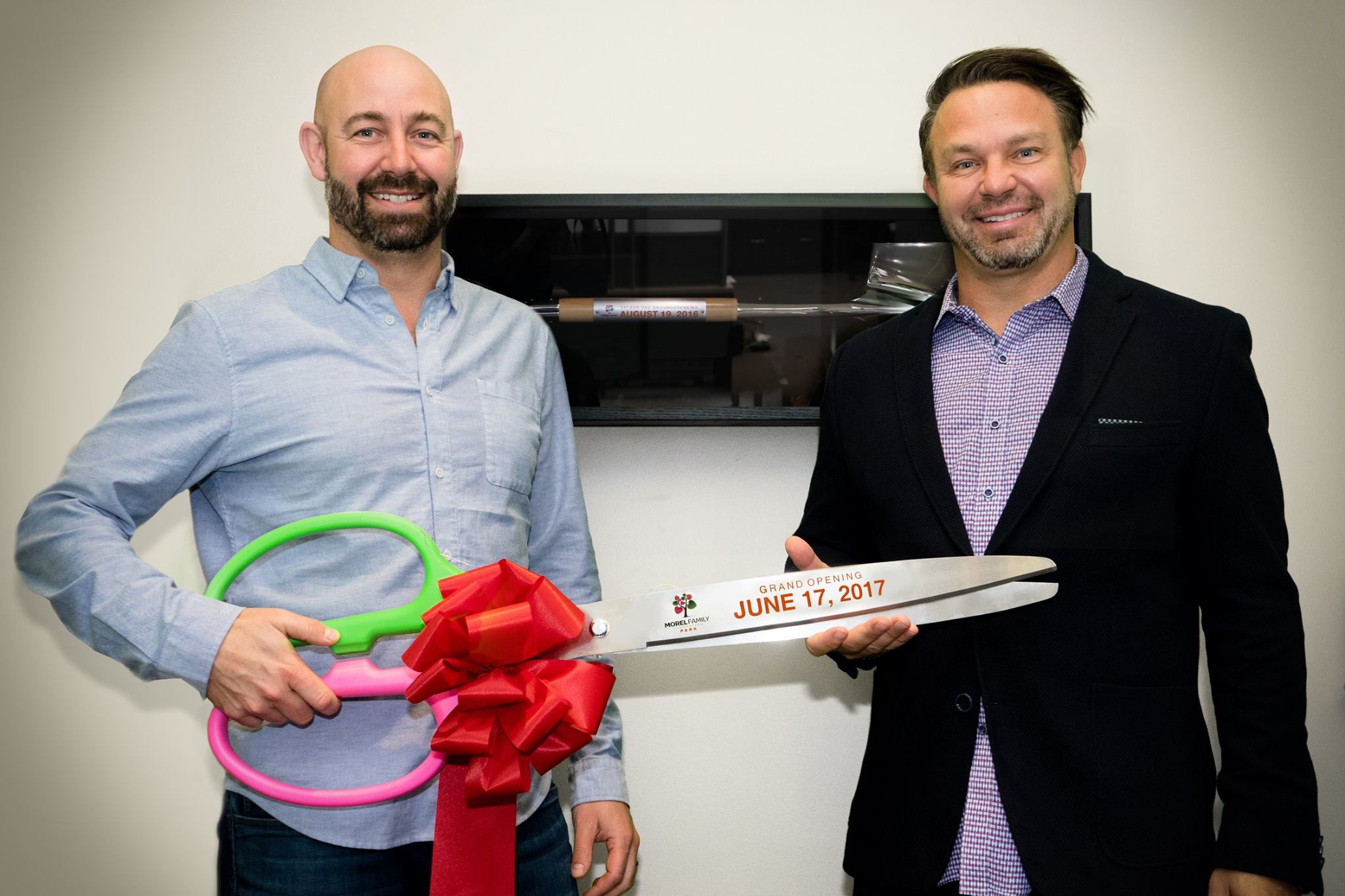 With the goal of improving the daily lives of children in the community, the Morel Family Foundation partnered with the Greater City of Sudbury to cover the costs associated with repairing, revitalizing and upgrading the former Adamsdale Playground, and transforming the 230,000 square-foot area into the Morel Family Foundation Park—complete with new swing sets, climbers, play areas and of course, the centerpiece splash pad. This has been done without the solicitation of any sponsorships or donations, simply meant to be an altruistic gesture of appreciation for a community close to their hearts.

The focus of this project is to facilitate inclusive family fun for children of all ages and abilities. Kelly and Cory personally selected the best equipment to meet the needs of all children. The project is currently in its final stage of completion: the equipment has been installed, the sign has been posted and the whole community is buzzing with excitement.

To celebrate the Grand Opening of the park, Kelly and Cory invite you to join us on Saturday, June 17th for live entertainment, free food and gifts, and tons of activities for the whole family to enjoy. To view the invitation to the event, along with pictures of every step of the process, visit our Facebook page www.facebook.com/morelfamilyfoundation.

Along with providing the community with a brand-new space for play, the park is meant to be a symbol of the foundation's commitment to helping those less fortunate. We have developed specific programs for families and individuals in need, which can be found here on our website.

We are truly proud of everything we have accomplished so far, and would like to take this opportunity to share the news. Together, we hope to keep doing what we set out to do—give back and dream big!
Sons Honour Sudbury Parents
Two Sudbury brothers, who run successful companies in Toronto, but have never forgotten their roots, will break ground Friday for a park that will provide a safe, fun place for families.

Kelly and Cory Morel will return to the Nickel City, with their seven children in tow, for a ceremony to launch the project being undertaken on Second Avenue at Camelot Drive in Minnow Lake...
View Full Article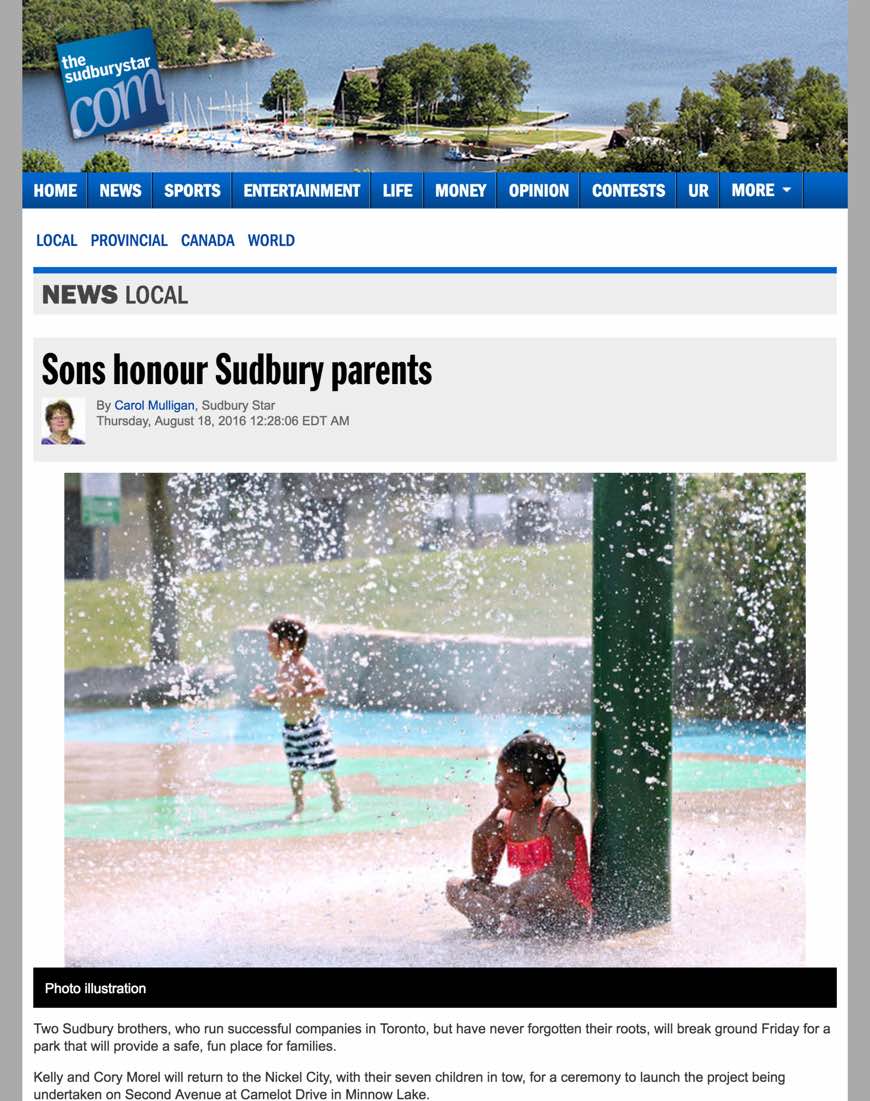 Family Improves Quality of Life For Residents In Their Old Neighbourhood
It was a phone call from someone he doesn't know that sums up why Cory Morel and his brother, Kelly, decided to donate $250,000 to improve a park on Second Avenue.

Speaking on Friday at the newly named Morel Family Foundation Park, Cory said the woman wanted to let him know how much the splash pad the family is helping pay for would mean to her family...
View Full Article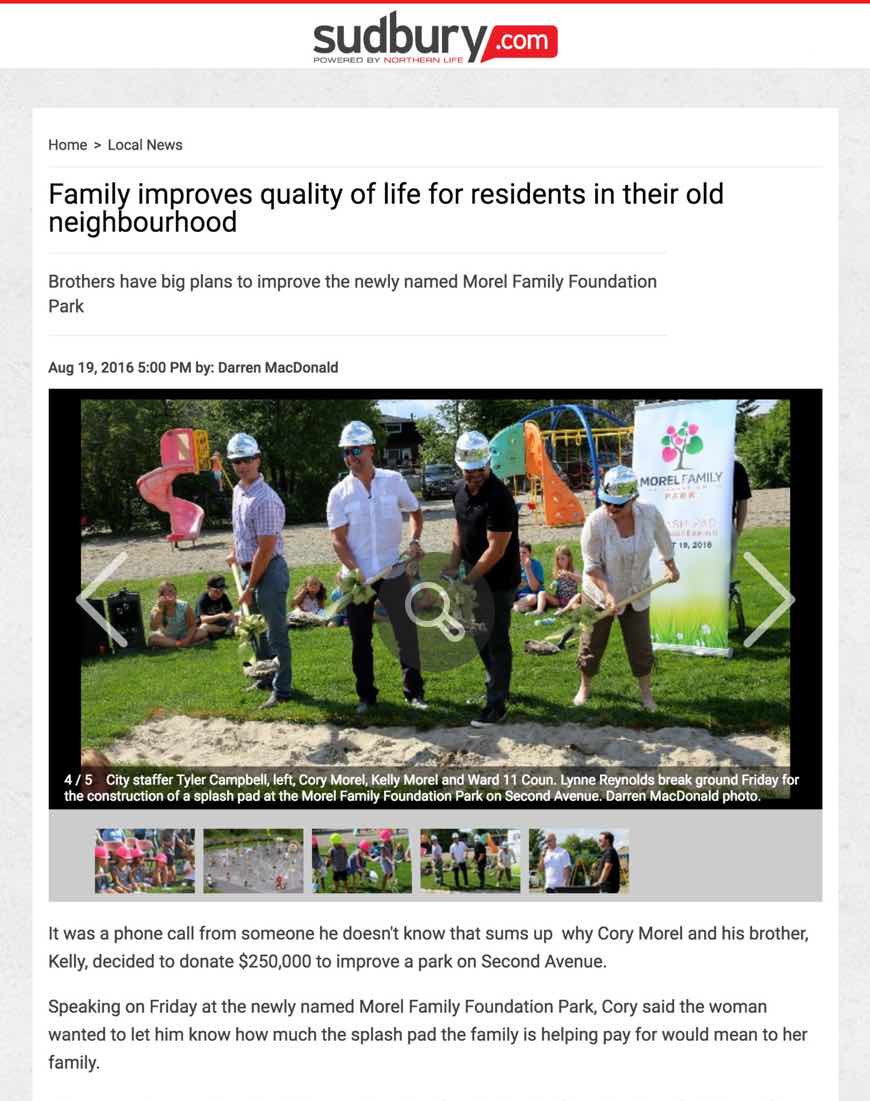 Breaking Ground On Morel Park
A new splash pad and park along Second Avenue, in Sudbury's Minnow Lake neighbourhood, is set to transform a large grassy depression into a kid-friendly summer paradise.

Kelly and Cory Morel, two brothers who were born in Minnow Lake and grew up in Sudbury, are financing the metamorphosis of the playground. They said Friday it is about giving back to a community that offered them so much during their younger years...
View Full Article