Morel Family Foundation presents A Hockey Night in Ottawa
The holiday season came and went in the blink of an eye but for us this year it was a little extra special. December is a wonderful time for friends and family to give and receive gifts and at the Morel Family Foundation, we are no different. We were so fortunate to not only have been able to give back but also to receive the wonderful gift of meeting some incredible young people.

On December 17th, 2018 the Foundation hosted an event for some young hockey fans in the Ottawa area, all of whom have been or are currently battling life-changing medical conditions.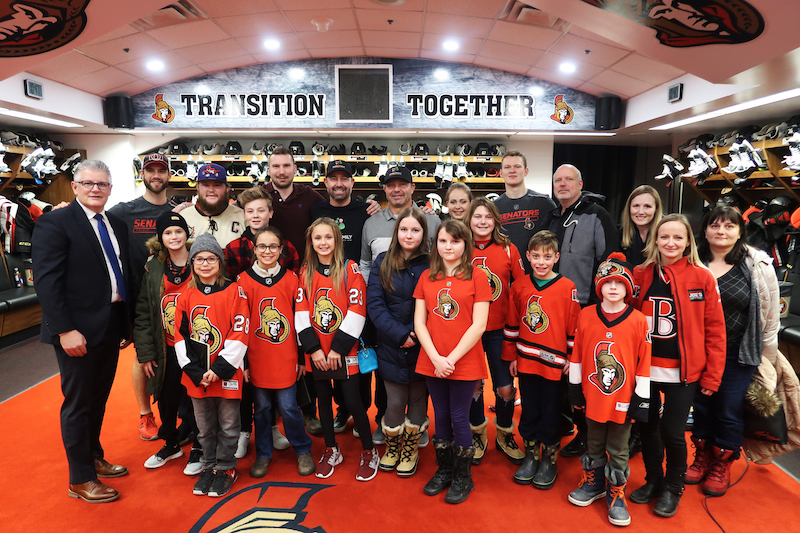 These nine boys and girls have all been through trials that would test the resolve of any adult let alone children aged between 10 and 15 years old. We were awed by their strength, determination, and the positive attitude that radiated from each one of these incredible young people. We were lucky to have had the opportunity to see in the flesh what the expression 'strength through adversity' really means.

Of course, pulling these kinds of events off successfully is no small feat and we would like to thank our many partners who came together to help us. A huge thank you to the Ottawa Senators GM Pierre Dorion, associate coach Marc Crawford, players Brady Tkachuk, Mike McKenna as well as former Senator Kyle Turris along with the entire Ottawa Senators family who helped give these kids a great experience. A special thank you to Brent Wallace and Mike Johnson from TSN who visited our suite and had nothing but time for our kids.

All in all, it took 17 people to pull this event together and we are so grateful for their help and collaboration. Here's to a happy, healthy 2019 to you all and we hope to be able to do more good this coming year and beyond.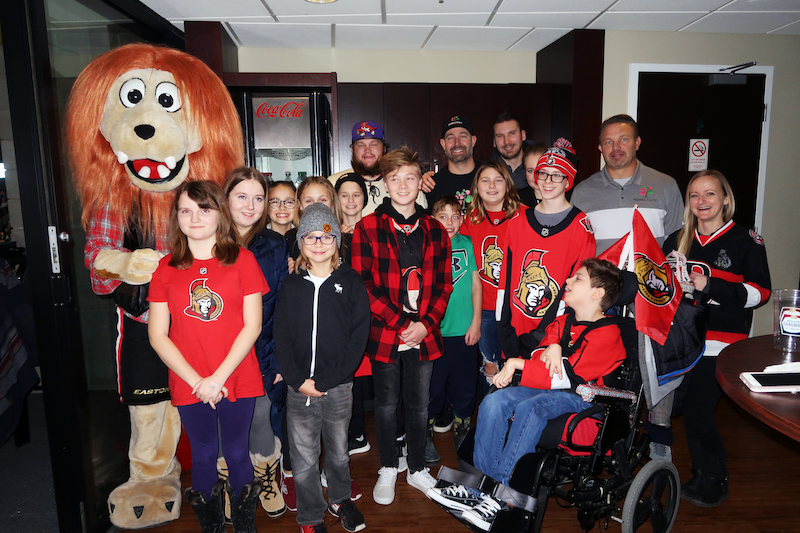 Morel Family Foundation and the Ronald McDonald House Charities Toronto Home For Dinner program
On the evening of March 6th 2018, the Morel Family Foundation had the honour of participating in our second Ronald McDonald House Charities Toronto Home For Dinner program. We brought our A-game and had to use all of our team's best kitchen skills to cook a successful Greek meal for the 81 families that call the Ronald McDonald House Toronto home. Each stay can only be described as some of the toughest times anyone could imagine, for any family.

At the Morel Family Foundation – family means everything and kids are at the core of that so to be able to give back in a small but meaningful way and to be able to share a meal with true heroes – these incredible families - was an experience we'll cherish for a long time.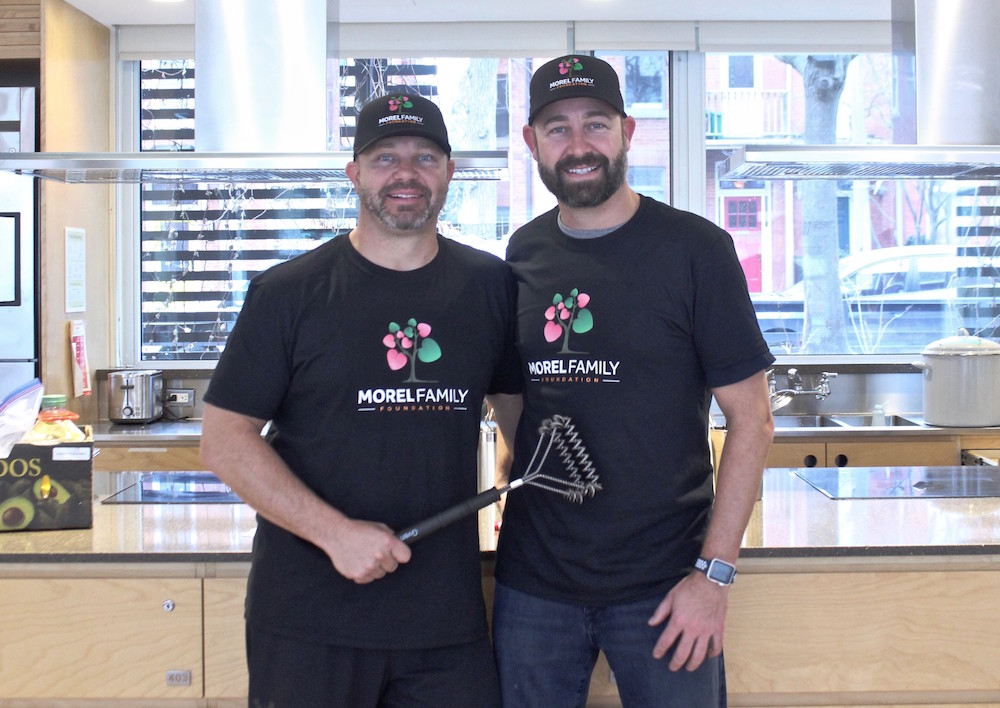 Morel Family Foundation marks anniversary of Minnow Lake park
The Morel Family Foundation is set to host a one-year birthday bash for the park it opened in Minnow Lake.

June 2 will be a day of fun and entertainment for everyone who helps the foundation celebrate.

Starting at noon, there will be a free barbecue, ice cream and bouncy castles and lots of games. That will run until 3 p.m.

At 8 p.m. the foundation will host a family movie under the stars – a picnic-style movie screening with lots of popcorn followed by a fantastic fireworks show.

"All in all, it's just a great day of family fun," the foundation said in a news release.
View Full Article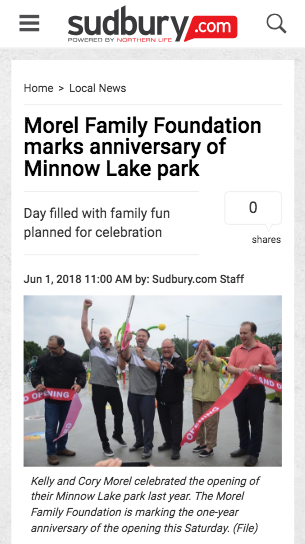 The Morel Family Foundation Supports Cystic Fibrosis Canada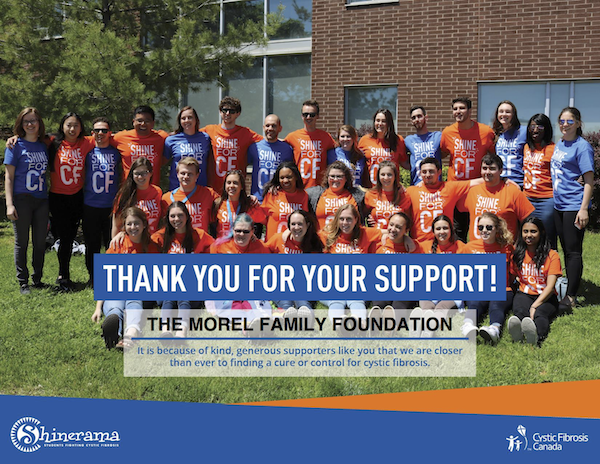 CTV News - Opening of Morel Family
Foundation Park
View Full Article
OP-ED: Enough mincing, let's stride boldly into the future
And then there are the selfless givers and true visionaries, those who show faith in the future of their hometown — most recently, Mrs. Lilly Fielding and the Morel Family Foundation.

What did we see before the spectacular ventures of these past leaders? We saw rocks and green fields. Our whole city's built form has been on rocks and green fields. We built through it, on top of it, under it and around it. It's what we do best.
View Full Article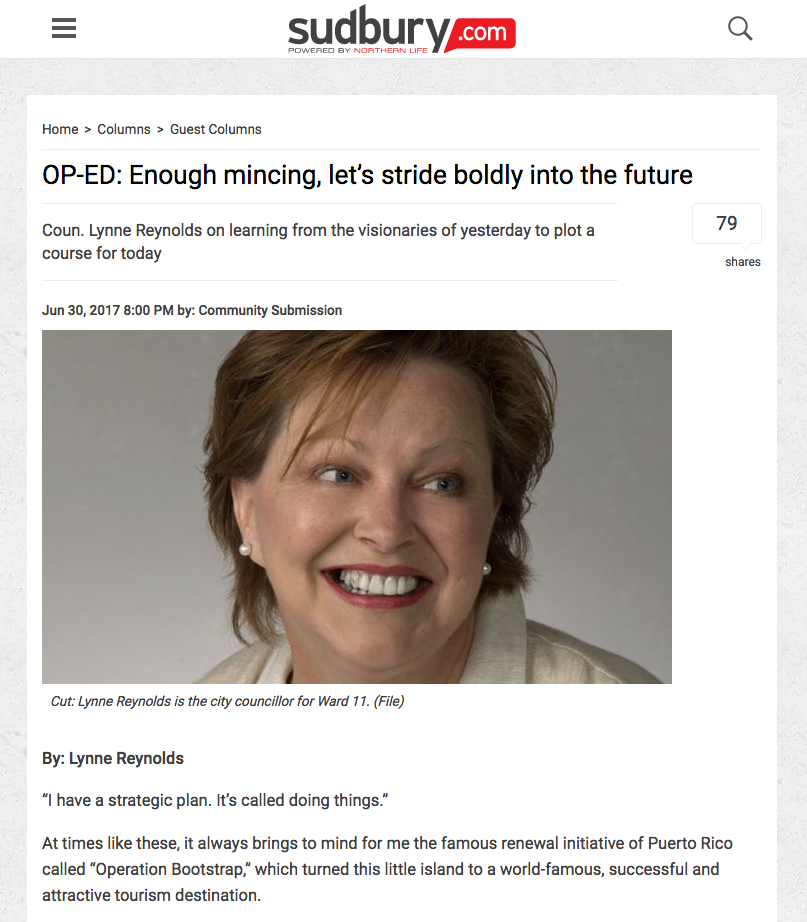 Morel Brothers Open City's
Newest Park
Greater Sudbury's newest park is open for fun.

The Morel Family Foundation Park, located at 270 Second Ave., was officially opened on June 17 with a ribbon-cutting ceremony and party. It's the result of $400,000 in donations from the Morel Family Foundation to the City of Greater Sudbury.
View Full Article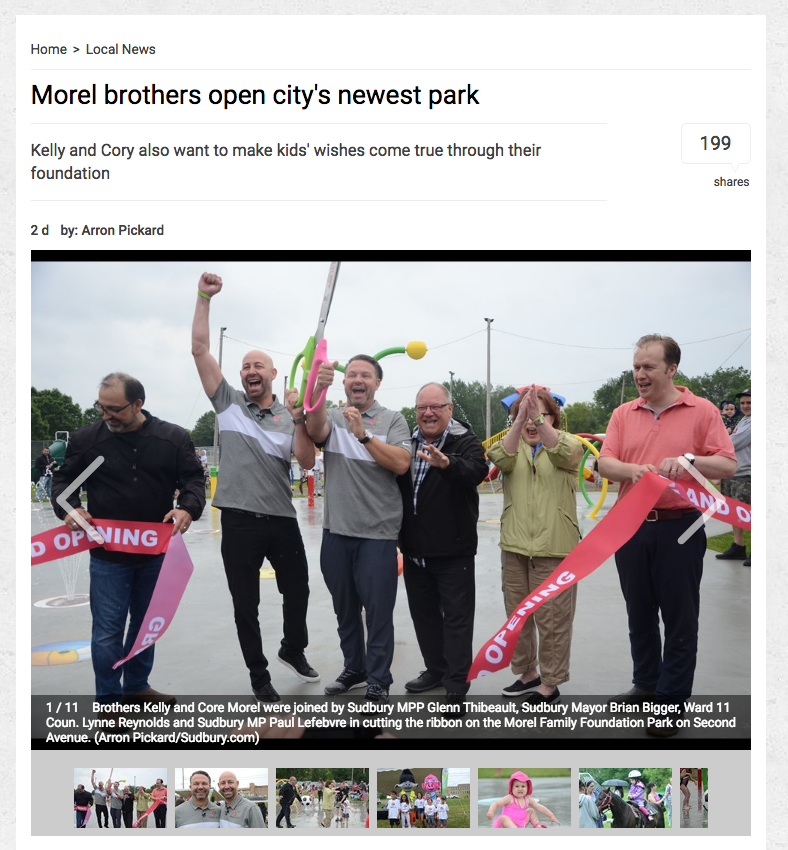 Opening of Morel Family Foundation Park
The grand opening of the Morel Family Foundation Park on Second Avenue in Sudbury, Ont. was held on Saturday June 17, 2017.

The event included live entertainment, free barbecue and goodies, horse and pony rides, bouncy castles and a number of other activities.
View Full Article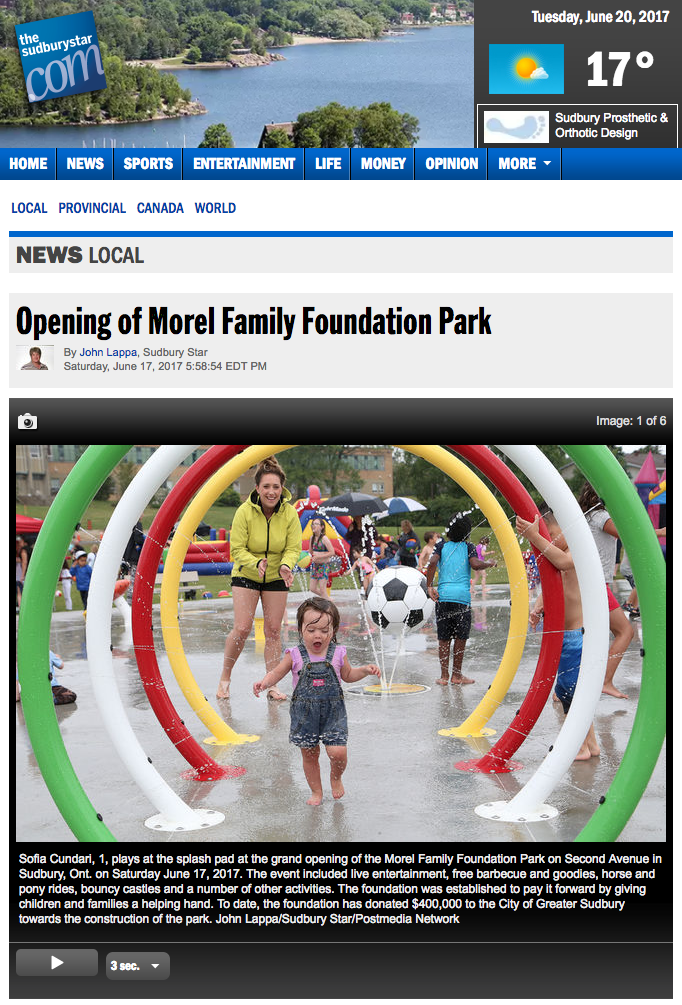 Morel Foundation Family Park opens today in Sudbury
The Morel Family Foundation Park will officially open Saturday.

The grand opening takes place at 11 a.m. at the park's location, 270 Second Ave. There will be a barbecue, cotton candy and ice cream.

"My dad was a celebratory individual and we want this to be a huge celebration," Kelly Morel said.
View Full Article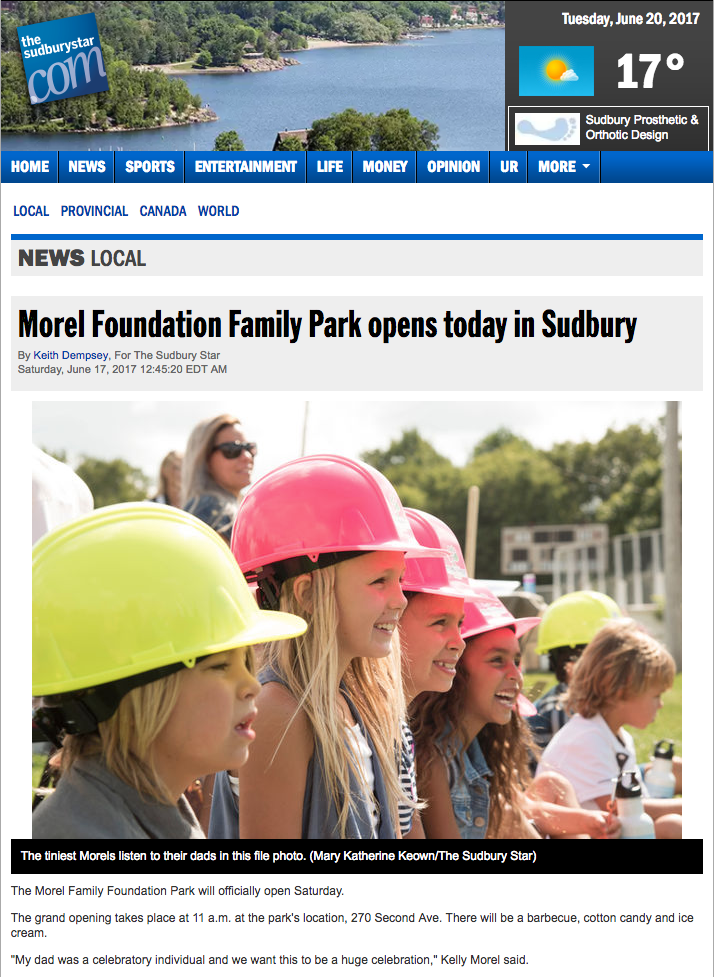 The Grand Opening of the Morel Family Foundation Park
The Morel Family Foundation has been working tirelessly on a flagship project aimed at improving the lives of a community in need. Kelly and Cory began the foundation to honor their late parents, Ray and Barbara Morel, by carrying forward their kindness and dedication to philanthropy.

Over the past 25 years, the family has been involved in numerous charitable projects both personally and through the corporate structure of the Morel Group of Companies. To continue to provide much-needed support to children and families in need, the foundation has been established as the official outlet for charitable efforts on behalf of the company.    

As proud fathers themselves, Kelly and Cory value the importance of staying close to family roots. Hence, their hometown in Sudbury, Ontario naturally stood out as the perfect location for the first official Morel Family Foundation project.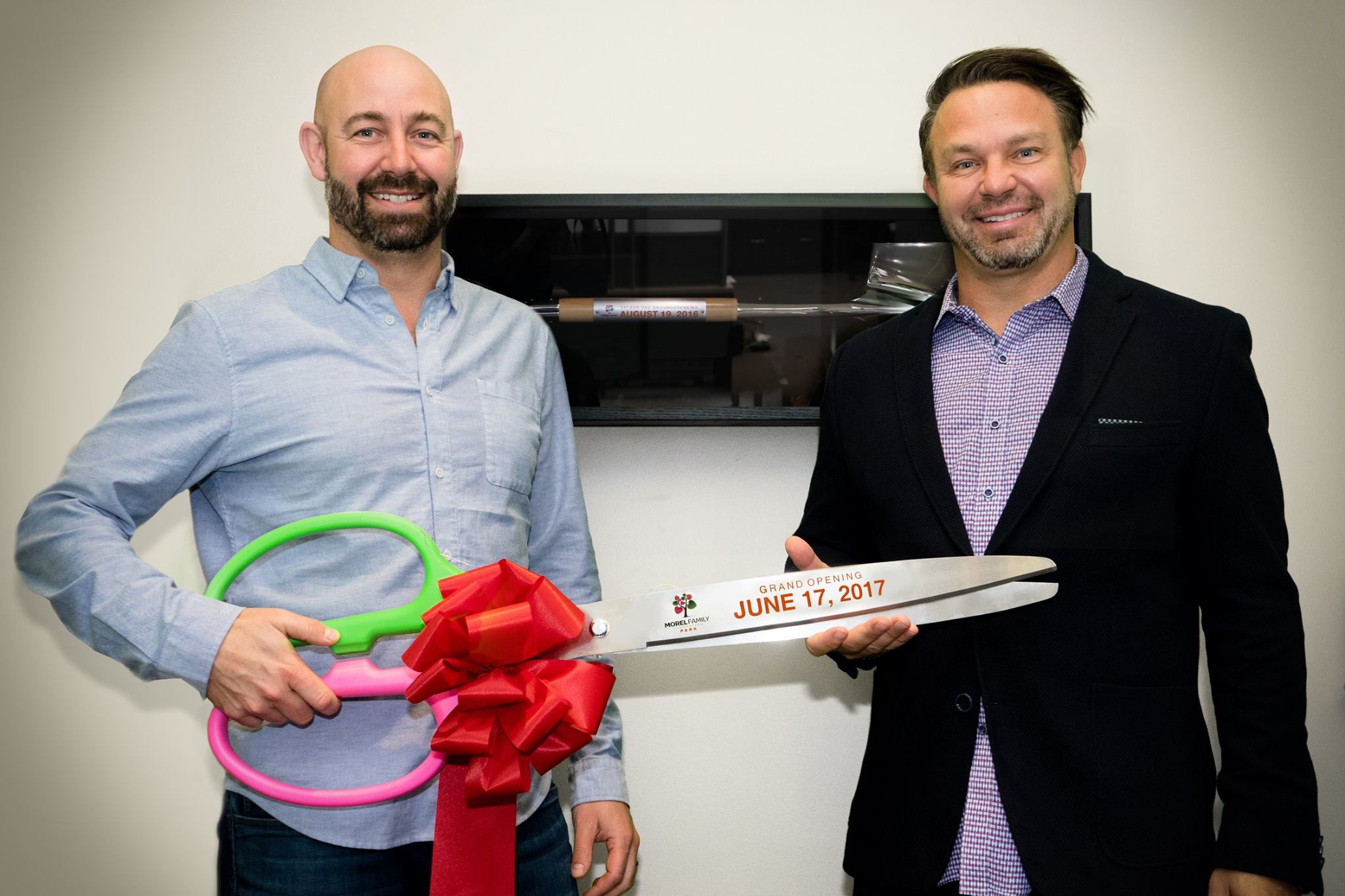 With the goal of improving the daily lives of children in the community, the Morel Family Foundation partnered with the Greater City of Sudbury to cover the costs associated with repairing, revitalizing and upgrading the former Adamsdale Playground, and transforming the 230,000 square-foot area into the Morel Family Foundation Park—complete with new swing sets, climbers, play areas and of course, the centerpiece splash pad. This has been done without the solicitation of any sponsorships or donations, simply meant to be an altruistic gesture of appreciation for a community close to their hearts.

The focus of this project is to facilitate inclusive family fun for children of all ages and abilities. Kelly and Cory personally selected the best equipment to meet the needs of all children. The project is currently in its final stage of completion: the equipment has been installed, the sign has been posted and the whole community is buzzing with excitement.

To celebrate the Grand Opening of the park, Kelly and Cory invite you to join us on Saturday, June 17th for live entertainment, free food and gifts, and tons of activities for the whole family to enjoy. To view the invitation to the event, along with pictures of every step of the process, visit our Facebook page www.facebook.com/morelfamilyfoundation.

Along with providing the community with a brand-new space for play, the park is meant to be a symbol of the foundation's commitment to helping those less fortunate. We have developed specific programs for families and individuals in need, which can be found here on our website.

We are truly proud of everything we have accomplished so far, and would like to take this opportunity to share the news. Together, we hope to keep doing what we set out to do—give back and dream big!
Sons Honour Sudbury Parents
Two Sudbury brothers, who run successful companies in Toronto, but have never forgotten their roots, will break ground Friday for a park that will provide a safe, fun place for families.

Kelly and Cory Morel will return to the Nickel City, with their seven children in tow, for a ceremony to launch the project being undertaken on Second Avenue at Camelot Drive in Minnow Lake...
View Full Article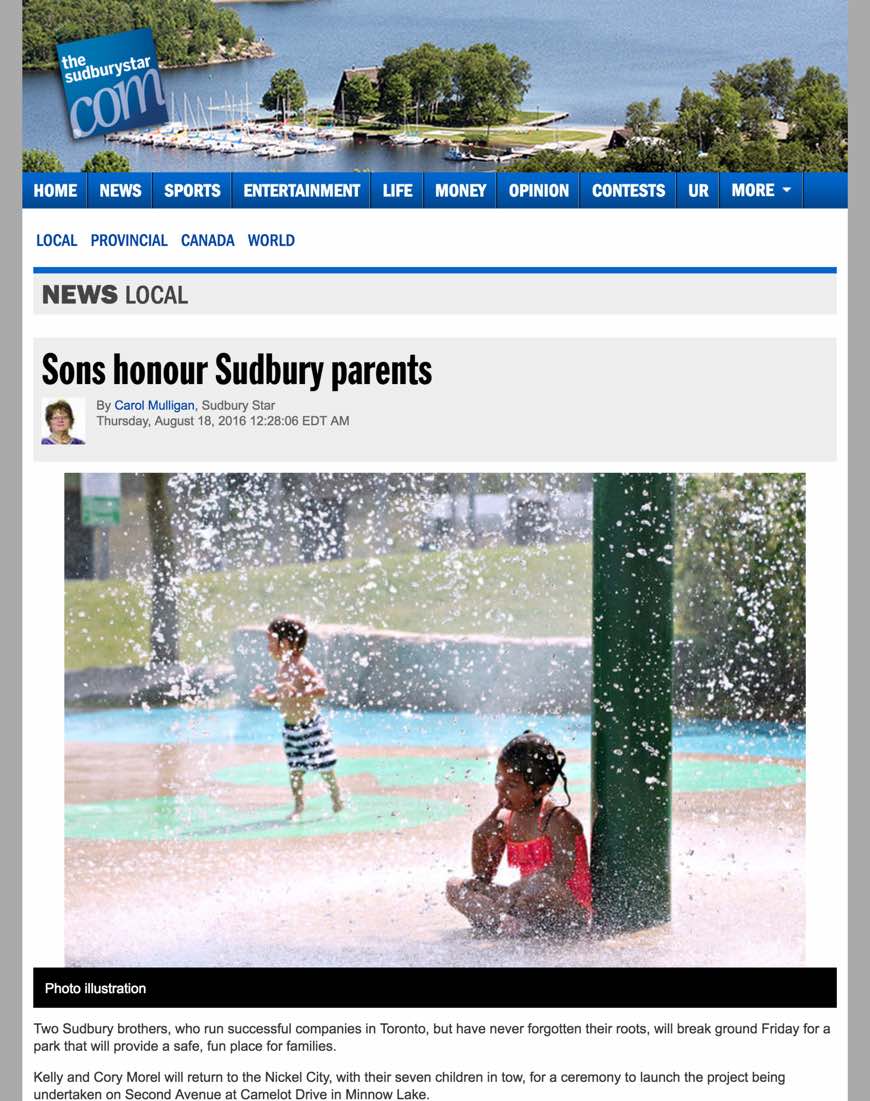 Family Improves Quality of Life For Residents In Their Old Neighbourhood
It was a phone call from someone he doesn't know that sums up why Cory Morel and his brother, Kelly, decided to donate $250,000 to improve a park on Second Avenue.

Speaking on Friday at the newly named Morel Family Foundation Park, Cory said the woman wanted to let him know how much the splash pad the family is helping pay for would mean to her family...
View Full Article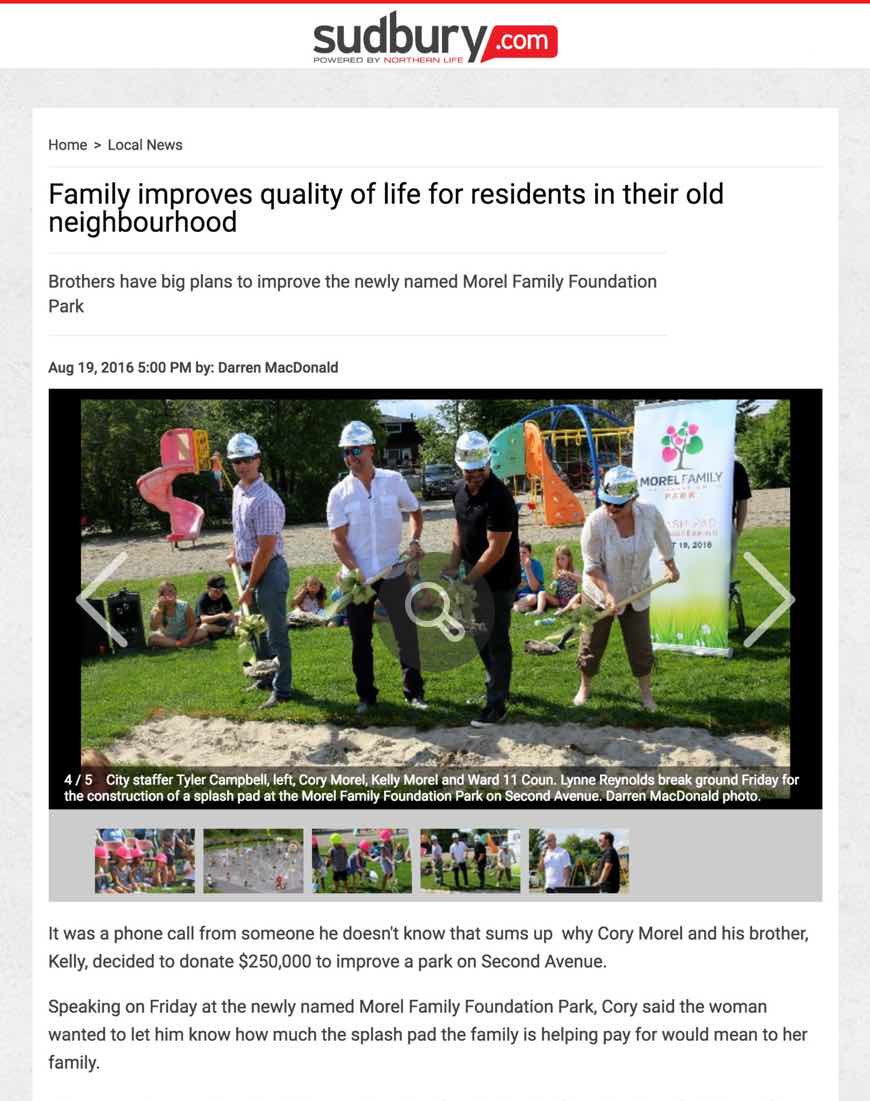 Breaking Ground On Morel Park
A new splash pad and park along Second Avenue, in Sudbury's Minnow Lake neighbourhood, is set to transform a large grassy depression into a kid-friendly summer paradise.

Kelly and Cory Morel, two brothers who were born in Minnow Lake and grew up in Sudbury, are financing the metamorphosis of the playground. They said Friday it is about giving back to a community that offered them so much during their younger years...
View Full Article